We donate all merch profits to Phoenix Futures, to help support people in our local community recovering from addiction.
f**k nicotine, but make it festive. We've rounded up this year's best-sellers in an extra giftable bundle to spark up some seasonal joy. Featuring this year's best-selling launches + limited edition drops,'tis the seasonalsis your one-stop-shop for all the f**k nicotine collectibles. Whether you're into tropical hints of passionfruit or kiwi, or want to mellow your mind with some serene elderflower - this saving set brings you the best of ripple+ 2022.
Sustainability
Here at ripple+, we're passionate about keeping our impact on the planet to a minimum. All our devices are fully recyclable and can be sent back to us for free via our recycling program, or dropped off at selected retail locations. From there on, we take care of everything and make sure all components are correctly recycled. The ingredients used in our formulations are fully traceable + we have complete transparency on their origins.
Delivery + Returns
We offer free shipping on orders over €20. For any issues or queries, please contact info@therippleco.com. If you wish to return your product(s), please contact us within 14 days of purchase.
RIPPLED AND RATED BY THE FAM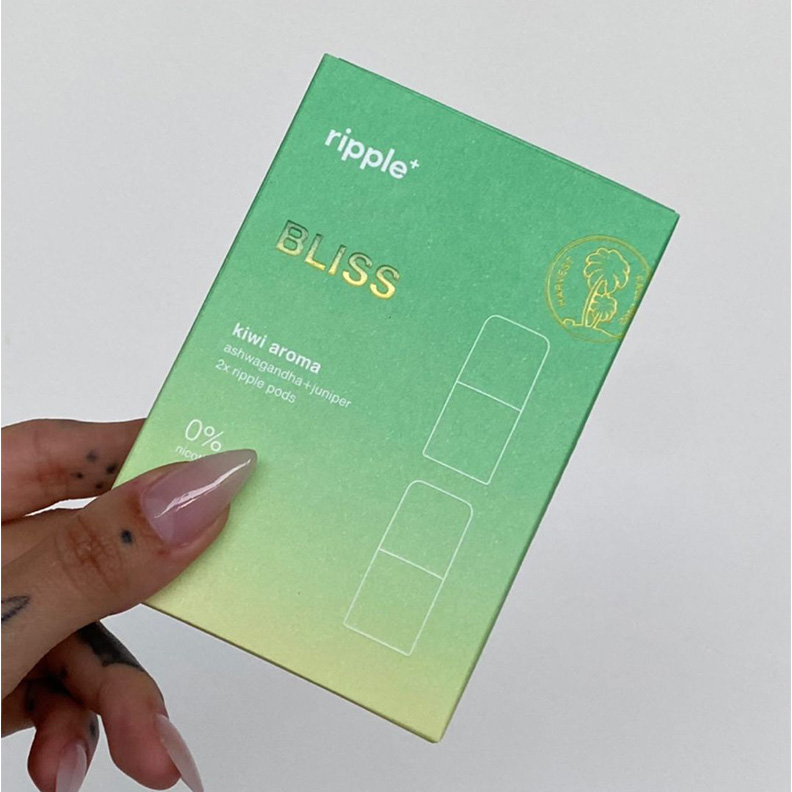 Madison
The quality of each pod and the pod diffuser is exceptional! The flavors/aromas are incredible and innovative as well! I ran to try the Bliss flavour and it might be my favourite one to date!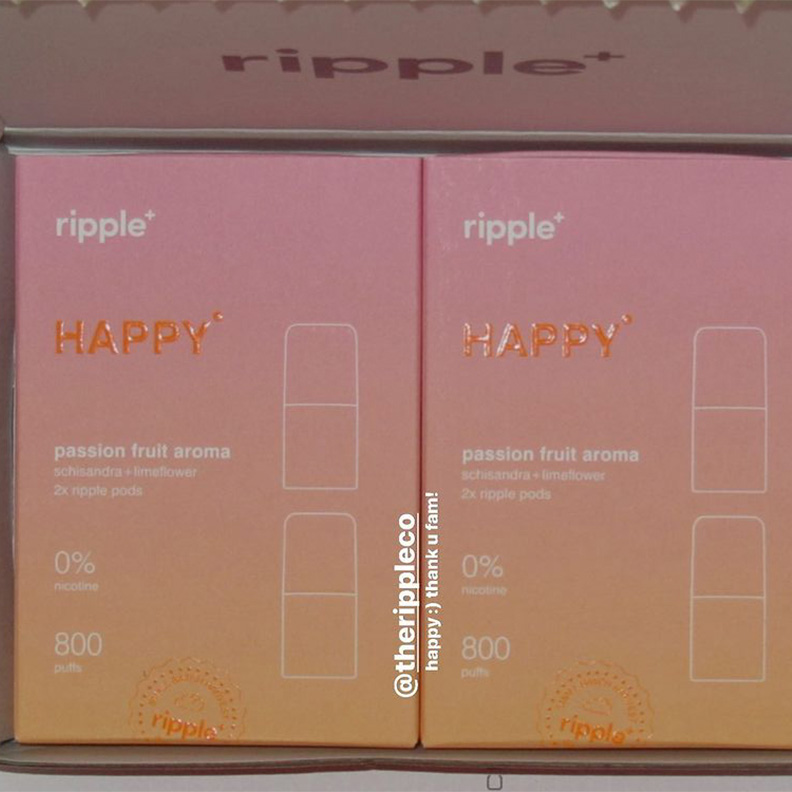 Joanne S
The Happy aroma is unreal, one of the best yet! It smells like a tropical dream and makes me feel elevated! Thank you for bringing this in pod form!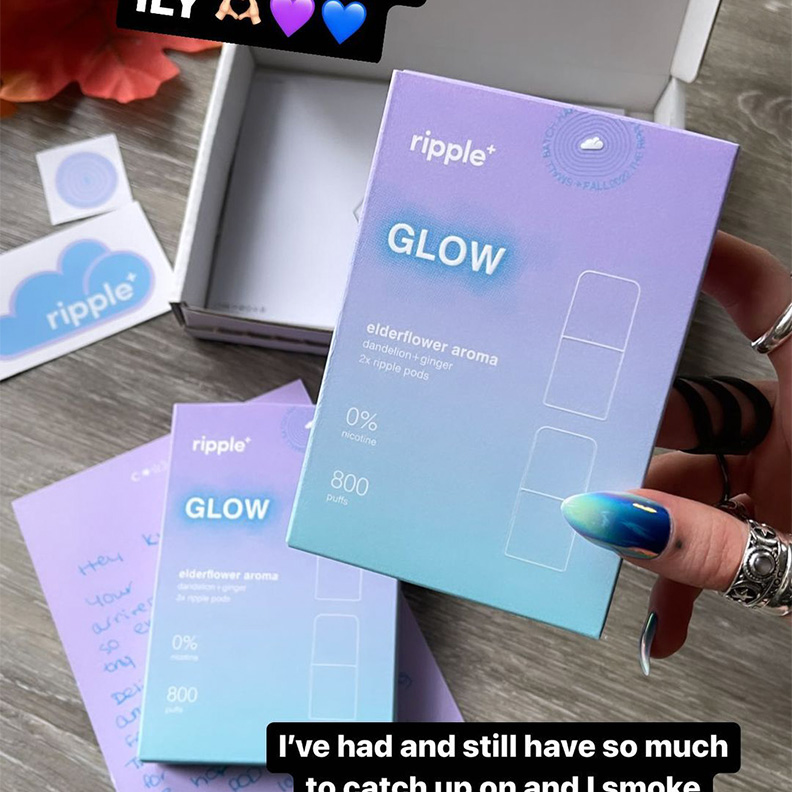 Chloe C.
I have been waiting for elderflower to come out! It is natural and really gives me a boost in my midday slump! Very smooth aroma and uplifting scent - 10/10 recommend!
I HAVE QUESTIONS
How does the POD device work?
Our next-gen POD system is an infinitely rechargeable device, compatible with all signature ripple+ formulas. Featuring the most advanced tech for the cleanest experience, the device lasts up to 10+ hours per charge and seamlessly connects with all our POD pack refills.

How do ripple+ PODs work?
Each POD attaches to your ripple+ device via a superior magnetic connection. Each POD delivers a cleaner + greener experience than ever before mood-enhancing botanical blends. When it's time to top up the device again, the custom-built recyclable POD pack disconnects effortlessly, ready for the next pack to be integrated.

How does HAPPY boost my mood?
HAPPY blends together anxiety-relieving schisandra and calming limeflower, topped off with a fuzzy passion fruit aroma for that extra fuzzy feeling. This tropical aroma are bound to put a pep in your step, leaving you feeling lighthearted and...well, happier than ever!

How does GLOW invigorate me?
GLOW features an invigorating combo of dandelion and ginger and is finished off with a sense-awakening elderflower aroma to help revitalise your senses.
Is ripple+ vegan and cruelty-free?
Yes and yes! It's really important to us that our diffusers don't cause harm to, or have a negative impact on humans, animals and the environment, so we've made it our mission to be completely transparent with everything that goes into them. We use natural ingredients and can say with complete confidence that our products are vegan-friendly and cruelty-free.
How do I recycle my ripple+ PODs?
The reusable design of the POD system minimises waste – so all you need to do is recycle the POD packs themselves. You can do this at your nearest retail location, or print out a free shipping label to send your used packs back to us. Plus we'll send you a reward, so you can stock up on plant-powered goodness for less, next time.

How do I track my ripple+ order?
You'll receive a confirmation email with your tracking number as soon as your order has been dispatched. Just give the tracking a couple of hours to update once you've got it, and you'll then be able to follow your ripple+ goods making their way to you!

DISCOVER THE FULL RANGE
You're in luck, there's plenty to pick from. Check out the full f**k nicotine line-up.
SHOP NOW
bundle + save
It's time to mix your fruities up! Meet CALL OF FRUITY: the juiciest bundle of 'em all, featuring two BOOST, two FOCUS + two REVIVE ripples, to help make your day that lil' bit brighter.
Save €14 + free shipping
Shop Now