We donate all merch profits to Phoenix Futures, to help support people in our local community recovering from addiction.
A mix of mouth-watering fruity aromas, featuring our lychee, lemon + mango formulas to uplift your spirits and transport your senses to a sunnier state of mind. With mood-boosting extracts of green tea, bacopa, these mood-boosting PODs are compatible with our best-selling rechargeable device.

Sustainability
Here at ripple+, we're passionate about keeping our impact on the planet to a minimum. All our devices are fully recyclable and can be sent back to us for free via our recycling program, or dropped off at selected retail locations. From there on, we take care of everything and make sure all components are correctly recycled. The ingredients used in our formulations are fully traceable + we have complete transparency on their origins.
Delivery + Returns
We offer free shipping on orders over €20. For any issues or queries, please contact info@therippleco.com. If you wish to return your product(s), please contact us within 14 days of purchase.
review highlights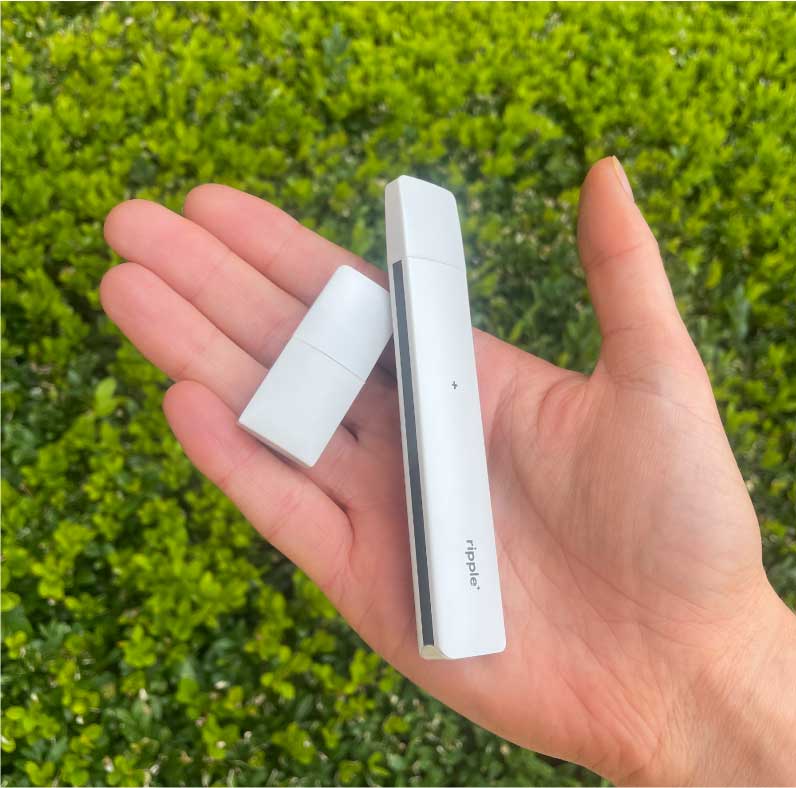 Jayne D
I love switching up the pod systems and changing my flavors. I love coming home from work and reaching relaxation! The Zest aroma and Focus have changed my life, I usually pop in focus when i am craving something sweet!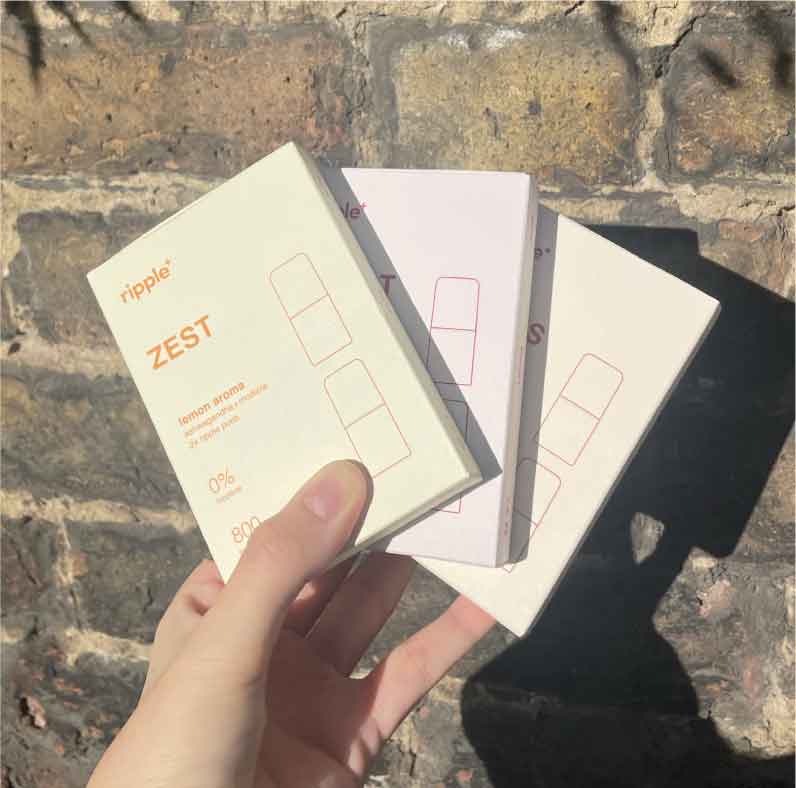 Maarley H
Rocking the boost pod and my my, it is amazing! Hats off to you guys - absolutely smashed it this time!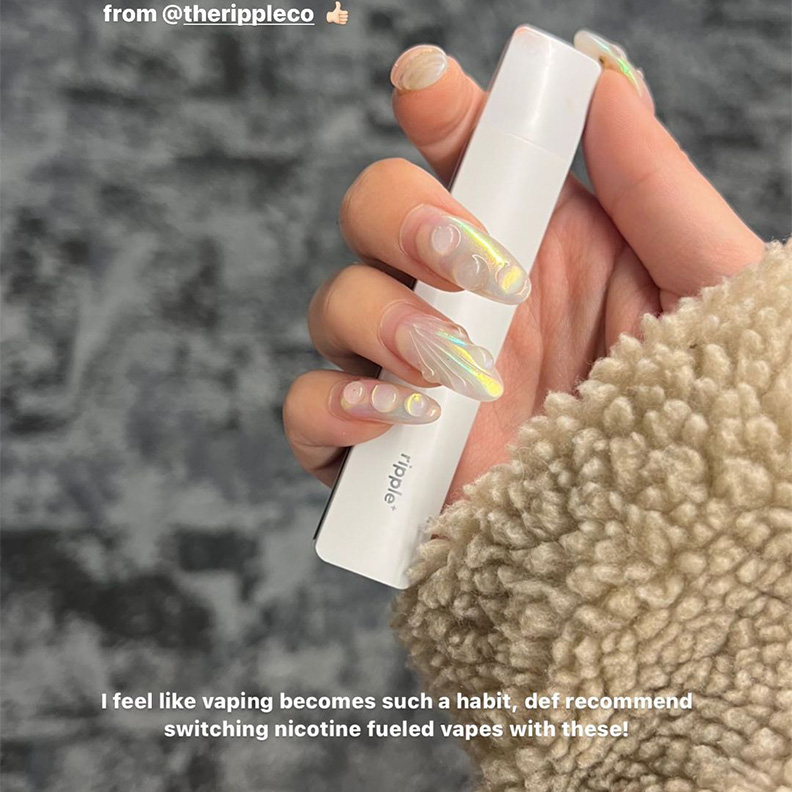 Keino
My favorites are the Mango, Lemon, and Lychee flavors! I can't wait for more fruity flavours to come out! Ripple is just right for me to satisfy my want (not need) to have a social experience which cigars used to bring me. Thank you Ripple for a game-changing experience <3

frequently asked questions
How does the POD device work?
Our next-gen POD system is an infinitely rechargeable device, compatible with all signature ripple+ formulas. Featuring the most advanced tech for the cleanest experience, the device lasts up to 10+ hours per charge and seamlessly connects with all our POD pack refills.
How do ripple+ PODs work?
Each POD attaches to your ripple+ device via a superior magnetic connection. Each POD delivers a cleaner + greener experience than ever before mood-enhancing botanical blends. When it's time to top up the device again, the custom-built recyclable POD pack disconnects effortlessly, ready for the next pack to be integrated.
How will FOCUS help me keep plugged in?
With its tasty tropical aroma, FOCUS is an invigorating blend of mood-boosting ingredients to help transport your senses to sunnier places. The fatigue-fighting mix of bacopa + guarana to is designed to give you a lil' lift off when you need to go in full force, and the mighty mango taste, think of it as your go-to travel companion for an imaginary trip to paradise!

How will ZEST invigorate me?
ZEST is designed to uplift your senses and keep your spirits high! Formulated with ashwagandha + rhodiola to support balance and stabilise energy levels, this functional combination is topped off with a zingy lemon aroma for a sense-awakening flavour. You'll feel like you're walking on sunshine, banishing any gloominess that might be holding you back!
How will BOOST uplift my mood?
BOOST is your pocket-sized pick-me-up, designed to organically support your stamina and mental clarity. The combination of green tea + maca will help relieve inflammation and increase strength so you can feel on top form! Topped off with a punchy lychee aroma for a fruity kick, this is a natural way to give yourself a boost!
Is ripple+ vegan and cruelty-free?
Yes and yes! It's really important to us that our diffusers don't cause harm to, or have a negative impact on humans, animals and the environment, so we've made it our mission to be completely transparent with everything that goes into them. We use natural ingredients and can say with complete confidence that our products are vegan-friendly and cruelty-free.
How do I recycle my ripple+ PODs?
The reusable design of the POD system minimises waste – so all you need to do is recycle the POD packs themselves. You can do this at your nearest retail location, or print out a free shipping label to send your used packs back to us. Plus we'll send you a reward, so you can stock up on plant-powered goodness for less, next time.

How do I track my ripple+ order?
You'll receive a confirmation email with your tracking number as soon as your order has been dispatched. Just give the tracking a couple of hours to update once you've got it, and you'll then be able to follow your ripple+ goods making their way to you!

DISCOVER THE FULL RANGE
You're in luck, there's plenty to pick from. Check out the full f**k nicotine line-up.
SHOP NOW
discover the full range
You're in luck, there's plenty to pick from. Check out the full f**k nicotine line-up.
9 signature aromas 🌷
Shop Now